Nepal is the "Jewel of the Himalayas" and is one of the most beautiful countries in the world. The breathtaking landscapes in Nepal adorn its beauty. The massive Himalayan glaciers, waterfalls, pristine lakes and the verdant forests of Nepal offer a heaven-like pulchritude.
Nepal is a land-locked country located along the southern slopes of the mighty Himalayas. It has India to its east, west and south and Tibet to its north. Nepal is a multi-religious, multi-ethnic, multi-lingual and multi-cultural state.
HOW TO PLAN NEPAL TOUR PACKAGES FROM GORAKHPUR IN 2023/2024
Gorakhpur is located in the eastern part of Uttar Parades which is one of the most popularly known cities in the eastern region after Varanasi & Prayagraj.
Why One Should Plan Nepal Tour Packages from Gorakhpur
 Gorakhpur is very strategically located & is close to Nepal Border (only 100 km away). So, for anyone planning a road trip to Nepal, Gorakhpur is the most suitable place to start the tour.
Gorakhpur is very well connected to different parts of the country, whether it is east, west north or south, Gorakhpur has a flight OR train connectivity with all these areas.
The biggest advantage of taking Nepal Tour packages from Gorakhpur is within the same duration and same price one can add & visit 02 (Two) world-famous sites i.e Gorakhnath Temple at Gorakhpur & Lumbini (Birth Place of Lord Buddha) in Nepal.
Along with the above sight visit advantage, another benefit is monetary. Because if you flying directly to Kathmandu you are taking an international flight which is anytime expensive than a domestic flight.
Even if you take a direct flight to Kathmandu, to reach Pokhara you have to travel around 6-7 hrs & almost the same time is required from Gorakhpur To Pokhara, so it will not make any difference in travel time as well.
How To Reach Gorakhpur For Taking Nepal Tour Packages in 2023/2024
Reaching Gorakhpur is not a big challenge; one can arrive at Gorakhpur by Road, Rail OR Air.
By Air
If you are a domestic traveller, you can book your ticket for Mahayogi Gorakhnath Airport, Gorakhpur which is only 8 km away from the city centre & is located on Lucknow – Barauni Highway.
By Rail 
Indian railway's widespread network of rail connects Gorakhpur to every part of the country. Kashmir To Kanyakumari & Arunachal to Gujrat every corner is connected.
By Road 
Gorakhpur is connected by Road from Delhi, Lucknow, Varanasi, Prayagraj, Patna & other neighbouring cities.
There are two different things which need to be addressed
(A) Best Time To Travel 
The best time to travel to Nepal is October – December & March-May. June – September is the monsoon (rainy) time if you want to enjoy the rain in mountains you can visit during this period OR else should avoid the monsoon.
(B) Best Time To Book 
One must always book the tour packages from Gorakhpur to Nepal well in advance (min 3 months before) because trains & flights get booked very fast on this route.
Which mode of transport is used for Gorakhpur to Nepal Tour Package 2023/2024?
From your city up to Gorakhpur you can plan your journey by any means Rail / Road / Air. From Gorakhpur to Nepal your mode of travel/transport will be by Road. Choice of the vehicle will depend on the number of person travelling together, same can be spotted from the below table.
| | | |
| --- | --- | --- |
| S. No | No Of Persons (Head Count) | Choice Of Vehicle |
| 01) | 01 – 04 | Dzire / Similar |
| 02) | 05 – 06 | Ertiga / Similar |
| 03) | 05 – 07 | Innova / Similar |
| 04) | 08 – 13 | Traveller (13 Seater) |
| 05) | 14 – 20 | Traveller (20 Seater) |
| 06) | 21 – 26 | Traveller (26 Seater) |
| 07) | 27 – 40 | Bus 2×2 (40 Seater) |
3 Nights 4 Days Nepal Package from Gorakhpur in 2023/2024
The minimum duration of the trip that one should plan from Gorakhpur should be at least 3 nights 4 days Nepal package. These trips are short hence must be very objective-oriented, which means either you want to have a darshan of Lord Pashupatinath Ji (@ Kathamandu), Lord Muktinath Ji (@ Jomsom) or want to visit on a leisure trip to Chitwan & Pokhara.
But, if you have additional days, then must plan your itinerary in such a manner that you get the maximum out of the trip. Our below-proposed itinerary is the best value-for-money option if you are planning Nepal Tour Packages from Gorakhpur.
Best Nepal Tour Packages from Gorakhpur with Price in 2023/2024
Nepal 7 days tour package is the most popular & most sold among Nepal tour packages from Gorakhpur. Because this itinerary covers almost every place of interest in Nepal for every age group like for old age -Kathmandu (Pilgrimage site), middle age – Pokhara (Nature, Scenic Places & Adventure) & for children – Chitwan (Wildlife – Elephant / Jeep Safari).
Duration              : 06 Nights / 07 Days
Pick-Up                 : Gorakhpur
Drop-Off               : Gorakhpur / Kathmandu
Places Covered    : Lumbini | Chitwan | Pokhara | Kathmandu
Starting Price     : Ask for Price
 (Above price is indicative & same vary on various factors like no of persons travelling together, type of hotels, meal plan & other inclusions and exclusions)
 Tour Itinerary      : As mentioned below.
Day -01    : GORAKHPUR – GORAKHNATH – BHAIRAHWA
Pick-up from Gorakhpur Rly Station / Airport (Before Noon) & proceeds to Bhairahwa. En route visit Gorakhnath Temple, Gorakhpur. Upon arrival hotel check-in for night stay. Night Stay at Bhairahwa.
Day -02    : BHAIRAHWA – LUMBINI – SAURAHA (CHITWAN NATIONAL PARK)
Check out from the hotel & proceed to Sauraha to visit Chitwan National Park. En route visit Lumbini (Birth Place of Lord Buddha).  Upon arrival hotel check-in for night stay & later purchase your next day's Jungle Activity Packages from Hotel / Local Agent based at Sauraha. Activities at Chitwan National Park are Tharu Cultural Program, Jeep / Elephant Safari, Canoe Ride, Elephant Breeding Centre, Elephant Bath, Village Walk, Jungle Walk & Bird Watching, & Crocodile Breeding Farm. Night Stay at Chitwan.
Day -03    : CHITWAN JUNGLE ACTIVITY – POKHARA
Your day starts early morning as per the package booked by you the previous day. Post activity check-out from the hotel & proceed to Pokhara. Upon arrival hotel check-in for night stay. Night Stay at Pokhara.
Day -04    : POKHARA LOCAL SIGHTSEEING
Early morning visit Sarangkote (Optional – Extra Cost). Post breakfast proceeds for local sightseeing. Places of attraction in local Pokhara are Vindhyawasini Temple, Seti River, Devi's Fall (White Water Fall), Gupteshwar Mahadev Cave, Barahi Temple & Fewa Lake. Evening free for shopping.
(Pokhara Market is cheaper & more accessible than Kathmandu). Night Stay at Pokhara.
Day -05    : POKHARA – MANOKAMANA – KATHMANDU
Check out from the hotel & proceed to Kathmandu. En route visit Manokamana Temple (By Cable Car). On arrival check in to the hotel for a night's stay. Night Stay at Kathmandu.
Day -06    : KATHMANDU LOCAL SIGHT SEEING
In the early morning enjoys Himalayan Mountain Flight (Optional – Extra Cost). Post breakfast proceeds for local sightseeing. Places of attraction in local Kathmandu are Pashupatinath Temple, Gujeshwari, Budhaneelkanth, Radha Krishna ISKON Temple, Swayambhunath, & Narayanhiti Palace. Night Stay at Kathmandu.
Day -07    : KATHMANDU / GORAKHPUR DEPATURE
Post breakfast check-out from the hotel & proceed to drop at Kathmandu International Airport / Gorakhpur Railway Station for our onward journey.
 Inclusions:-
A) Neat, clean & hygienic accommodation in Deluxe / similar hotel.
B) All tours & transfers as per the given itinerary by comfortable exclusive vehicle.
C) All toll, tax, parking and driver allowances are included.
D) Border entry charges (Bhansar) & Permit charges.
E) Pick-up & Drop from the respective place as per itinerary.
F) Daily Meal at hotel. (If Any, As per quote)
G) Hotel Tax @ 23.44 % is included. Except GST @ 5%.
 Exclusions:-
A) Any airfare, taxi, bus, OR rail fare which is not in our scope.
B) Any charges incurred for using hotel facilities.
D) Border exit charges while returning to India.
E) Any charges for Camera, Tour Guide, TIPS, Sight Seeing Entry Fee & VIP Darshan.
F) All entry fee to sightseeing places, monuments, temples & entertainment centres.
G) Everything which is NOT Mentioned in Inclusion.
To check other Nepal Tour Packages from Gorakhpur Click Here.
Frequently Asked Questions about Tour package from Gorakhpur to Nepal in 2023/2024
 Who needs a VISA to enter Nepal?
Indian Tourists do not need VISA to enter Nepal, whereas other nationals do require VISA before entering Nepal & documents required for the same can be checked at the official website of Nepal immigration.
Can Indian nationals enter Nepal by road in their own self-drive cars?
Yes, Indian nationals can take their self-drive car into Nepal, provided you full fill document requirements. Some important guidelines are as below.
The car must be legally registered in India & must carry an Original Registration Certificate.

The car must be insured, and insurance must not expire within the travel period, otherwise, you must get it pre-insured before the start of the tour.

Driver must carry original driving licences.

Before entering one must get the Custom Receipt (Bhansar) for the duration they are going to stay in Nepal.

After getting Bhansar, one must also take the Permit, without which your vehicle may be impounded OR penalized.
Other details/information related to the vehicle can also be obtained/verified from the official website of the Indian Embassy at Kathmandu.
 Can we use Indian currency in Nepal?
Yes, you can use Indian currency notes in Nepal, which you can carry along with you. These must be in the denomination of INR 10 to INR 200. 
Also, as per RBI, you can carry any amount of Indian Currency, but you are not permitted to take Indian currency notes of denomination of Rs.500 and above or buy any foreign exchange for visiting Nepal.
How many Days will be sufficient in Nepal?
It depends on the type of trip you are planning. If you intend to visit only Kathmandu valley then 03 Nights & 04 Days are sufficient.
If you want to visit Kathmandu & Pokhara both then 04 Nights / 05 Days OR 05 Nights / 06 Days are sufficient time to enjoy the place.
But to cover Kathmandu, Pokhara, Muktinath & Janakpur you must plan at least for 08 Nights / 09 Days OR 09 Nights / 10 Days.
So, the duration will totally depend on the type of tour you are planning.
Can I travel to Nepal on Aadhar Card?
As per the government of India notification in Jan 2019, any Indian citizen aged above 65 years OR below 15 years can travel to Nepal & Bhutan using/showing the adhar card at immigration check-points. This information was then published by all leading news agencies.


AHPL/NEPAL/001
04 Night/05 Days
Pick :Gorakhpur   Drop :Gorakhpur Cities to Visit: Gorakhnath, Lumbini, Pokhara, Manakamana & Kathmandu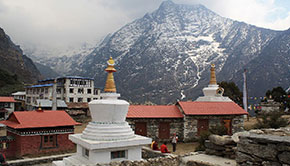 AHPL/NEPAL/002
05 Night/06 Days
Pick :Gorakhpur   Drop : Gorakhpur Cities to Visit: Gorakhpur,  Pokhara, Manakamana & Kathmandu

AHPL/NEPAL/003
05 Nights/06 Days
Pick :Gorakhpur Drop : Gorakhpur Cities to Visit: Pokhara, Manakamana & Kathmandu, Chitwan

AHPL/NEPAL/004
06 Nights/07 Days
Pick :Gorakhpur Drop : Gorakhpur Cities to Visit: Pokhara, Manakamana & Kathmandu, Chitwan National Park & Janakpur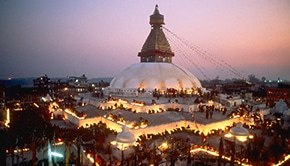 AHPL/NEPAL/005
06 Nights/07 Days
Pick :Gorakhpur Drop : Gorakhpur Cities to Visit: Gorakhpur, Sarangkote, Pokhara, Manakamana & Kathmandu, Janakpurdham

AHPL/NEPAL/006
07 Night/08 Days
Pick :Gorakhpur  Drop : Gorakhpur Cities to Visit: Lumbini, Pokhara, Kathmandu, Chitwan National Park & Janakpur

AHPL/NEPAL/007
03 Nights/04 Days
Pick :Kathmandu Drop : Kathmandu Cities to Visit: Kathmandu, Bhaktapur Durbar Square, Nagarkot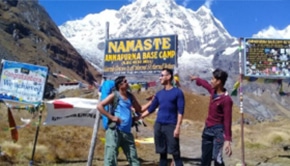 AHPL/NEPAL/008
04 Nights/05 Days
Pick :Kathmandu Drop : Kathmandu Cities to Visit: Kathmandu, Manakamana & Pokhara

AHPL/NEPAL/009
05 Nights/06 Days
Pick :Kathmandu  Drop : Kathmandu Cities to Visit: Nagarkot, Bhaktapur, Pokhara, Manakamana & Kathmandu

AHPL/NEPAL/010
05 Nights/06 Days
Pick :Kathmandu Drop : Kathmandu Cities to Visit: Chitwan National Park, Pokhara, Manakamana & Kathmandu

AHPL/NEPAL/011
06 Nights/07 Days
Pick :Kathmandu  Drop : Kathmandu Cities to Visit: Nagarkot, Chitwan National Park, Pokhara, Manakamana & Kathmandu
Muktinath Tour Packages 2023/2024