BEST NEPAL TOUR PACKAGES IN 2023-2024
[Ashirwad Holidays Pvt Ltd]
Surprised why you are here on this website?
The answer is, you are in love with nature, you want to explore the land of Himalayan Ranges with some of the most sacred places on earth, where Mother Nature spends her youth with full beauty &that is why you are looking for Nepal Tour Packages.
Nepal is a landlocked country located in South Asia sharing its border with India in the East, West & South, and Tibet in the North. Kathmandu is the capital city of Nepal which has connectivity to the world through Tribhuwan International Airport, Kathmandu. Nepal is a 
multi-religious, multi-lingual, multi-ethnic and multi-cultural state, with Nepali as the official language. Since tourism contributes majorly to Nepal's GDP hence tourism sector is the major employer in the country. People involved in providing Nepal Packages are very tourist-friendly and speak multiple languages like Hindi, English, Spanish, French & many more.
Nepal Tour Package For Family 2023-2024
Nepal tour package for family is a wonderful option as Nepal has a complete bouquet to offer, i.e if all three generation travel like grandparents, parents & children travel together than children get exposure to wildlife &nature at Chitwan National ParkSauraha, adults get a chance to enjoy their quality time & adventure activities like Paragliding, Bungy Jumping, River Rafting & Ultra-Light Flight at Pokhara, Nepal & oldies who have the intention to visit pilgrimage places in Nepal can visit Pashupatinath Temple, Sleeping Vishnu Temple (Swami Jalanarayan), KalBhairav Temple, Lumbini (Birth Place Of Lord Buddha), Muktinath Temple (Saligrama Temple) & Janakpur (Birth Place of Mata Sita) at various cities of Nepal like Kathmandu, Pokhara, Mustang & Janakpur.
Type Of Nepal Tourist Package

2023-2024
Nepal Tour Packages are available as Fly-In & Fly-Out, Drive-In & Drive-Out, Fly-In & Drive-Out and Drive-In & Fly-Out mode. These Nepal holiday packages are described below.
Fly-In & Fly-Out 
In this type of Nepal Travel Packages, your arrival & departure are planned from Tribhuwan International Airport, Kathmandu. We recommend this to travellers who have time constraints & do not want to do road travel. In this model total Nepal Package cost is very high.
Drive-In & Drive-Out
These Nepal Holiday Packages are best recommended to people who are looking for a Nepal trip on a budget, as travelers arrive & depart from the nearest Railway Station / Airport to the Nepal border entry point also this is best who want to include Ayodhya, Naimisaranyam & Kashi along with Nepal tour. In this model total Nepal Package cost is very low.
Drive-In & Fly-Out
These types of Nepal Packages are best recommended to people who wish to take the advantage of land entry / exist & want to avoid some extent of land journey & hence prefer arrival at Tribhuvan International Airport Kathmandu & exit via the land border. In this model total Nepal Package cost is moderate.
Fly-In & Drive-Out
This model is similar to Fly-In & Drive-Out & the only difference is the sequence of itinerary is reversed but all the benefits remain the same. In this model also total Nepal Package cost is moderate.
Which are the best suitable Nepal Tour Packages for you? (2023-2024)
We highly recommend you book your Nepal Tour Packages either from Gorakhpur OR Kathmandu because these are the two best places which give you better connectivity between India & Nepal & you can also utilize the best of your time & route.
Nepal Tour Packages from Gorakhpur (

2023-2024)
Gorakhpur (UP) is the best place to arrive if you planning any "Drive-In" option mentioned above because no other Indian city close to Nepal Border is very well connected to other Indian cities. Gorakhpur has a domestic airport which directly serves metropolitan cities like Delhi, Mumbai, Kolkata, Bangalore & Hyderabad.
Gorakhpur railway station is one of the biggest railway stations in terms of passenger handling in NER & also it is connected to almost every corner of India, being North-East, Southern India, North India OR Western India.
If you are a resident of Southern India, Northern India, Western India OR Central India then you must take the Gorakhpur to Nepal Tour Package as you will enjoy the best value for your time & money. Another big advantage of Nepal tour packages from Gorakhpur is that without increasing your Nepal tour duration & Nepal tour budget you can add the 02 (Two) most important places that exist for this reason i.e Gorakhnath Temple & Lumbini (Birth Place Of Lord Budhha).
Nepal Tour Package from Kathmandu

2023-2024
Currently, Nepal has only one (01Nos) International Airport i.e Tribhuvan International Airport, Kathmandu (KTM), and two other International airports in Nepal respectively at Pokhara & Bhairahwa are proposed (under construction) & soon they will also be operational & open to the public.
If you are having less time OR want to cover very few specific tours like Muktinath Yatra (Shaligrama Temple) only, Kathmandu Short Weekend Gateway (02Nights & 03 Days) OR (03 Nights & 04 Days) then the Nepal tour package from Kathmandu will be a good option because it will serve your specific need & will save your time, but don't forget that it will be an international trip & all the statuary requirements must be met. We have discussed the same in the FAQs section below.
Frequently Asked Questions
How Many Days Are Enough In Nepal?
Nepal is a very beautiful country & duration of your Nepal Tour Packages will depend on the type of tour OR places in Nepal you want to visit. If someone wants to visit only Kathmandu then it can be done 02 Nights & 03 Days also, but if you are intending to visit Kathmandu, Pokhara, Mukti Nath (Shaligram), Chitwan, Janakpur & Lumbini then you must plan your Nepal trip for 11 Nights & 12 Days ex-Gorakhpur.
How much will Nepal trip cost?
The cost of your Nepal tour package depends on various factors like the duration of the tour, the type of hotel you choose, the meal plan you include, the type of vehicle you choose and many more such factors. Ideally, for 02 Nights & 03 Days, the Kathmandu trip with 03 Star hotel will start from INR 8999/person*. So, while planning your Nepal trip budget keep these factors in mind & plan accordingly.
How to reach Nepal from India?
Reaching Nepal is an important aspect of every Nepal tour package because this is the most important thing which will affect your total tour budget, tour comfort & duration of the tour. So it is highly recommended that plan very well on these aspects & if you need any assistance in deciding kindly feel free to contact us, our expert would love to resolve your query.
Nepal Tour Package From Delhi [2023-2024]
By Air
Indira Gandhi International Airport, New Delhi (DEL) has direct flights to Tribhuvan International Airport Kathmandu (KTM) and major Indian airlines which operate in this sector are IndiGo, Vistara & Air India Nepal's Royal Nepal Airlines. 
By Road
You can enter Nepal via road also & the best suitable border to enter would be Sonauli / Bhairahwa border. To enter through Sonauli / Bhairahwa Border one can take night services busses operating between New Delhi – Gorakhpur, these buses start from Delhi in the evening & reach Gorakhpur the next day early morning OR one can directly take a morning flight from Delhi to Gorakhpur & enter Nepal same day.
By Train
New Delhi is very well connected with Gorakhpur through train & some important trains on this route are Vaishali Express (12554), Gorakhdham Express (12556), Satyagrah Express (15274), SaptKranti Express (12558), Bihar SaptKranti (12566), Gorakhpur Humsafar Express (12596) all these trains originate from New Delhi / AnandVihar so the probability of getting the confirmed ticket is higher than other trains but those options can also be explored if needed.
Nepal Tour Packages From Gorakhpur (2023-2024)
By Air
Gorakhpur's Mahayogi Gorakhnath airport (GOP) is very well connected with all major cities of India like New Delhi, Mumbai, Kolkata, Chennai, Hyderabad, Bangalore& Ahmedabad through direct flights. So, if you are a resident of any of these cities Or nearby places you can book a direct flight for your Nepal tour.
By Road
Road connectivity of Gorakhpur with major cities like New Delhi, Patna, Varanasi, and Lucknow is very good. One can reach Gorakhpur either by public transport busses OR can drive his own car down to Gorakhpur.
By Train
Gorakhpur is having good rail connection with every corner of India & some important trains from Northern India are Vaishali Express (12554), Gorakhdham Express (12556), from Western India are Kushinagar Express (11015), Dadar Express (15017), Ahmedabad Gorakhpur Express (19409), from Southern India are Yaswantpur Gorakhpur Express (12592, 22534, 15024), Secundrabad Gorakhpur Express (12590), Rapti Sagar Express (12522) & from Central India are Durg Nautanva Express (18201, 18205).
Nepal Tour Package From Varanasi (2023-2024)
By Air
Now Nepal's Budhha Air is providing a direct connection between Varanasi & Kathmandu, but it is a weekly flights do not operate daily.
By Road
All your Nepal tour packages from Varanasi by road will be executed Via Gorakhpur (Sonauli / Bhairahwa Border). It is best advised to do your local sightseeing at Varanasi & do an overnight journey & reach Sonauli Border next day & take a stay for the Day & visit Lumbini. 
By Train
After visiting Varanasi during the day, enjoy your Ganga Aarti in the evening catch ChauriChaura Express (15003) from Varanasi at midnight & reach Gorakhpur the next day morning & start your Nepal tour by road. 
Which Time Is Best For Nepal Tour?
Nepal is a destination which can be visited all around the year, but mountains should be avoided during the rainy season (Mid Jun – Mid Sep). However, most Indian travellers visit Nepal during (Apr-Jun) & (Oct-Dec). These two periods are considered to be the peak & shoulder seasons for Nepal tourism.
Which Indian city is near to Nepal?
Gorakhpur (UP) is nearest to Nepal's Sonauli border which is only 100 kms away & also provides good connectivity to other major cities of India.
Is Passport Required for Nepal?
Indian citizens do not require to carry a Passport to travel to Nepal, however, one must carry an Indian Voter Card, Or ID card issued by the Central Government of India as proof of Identification. Kindly note, the AADHAR Card is not valid to travel documents for the Nepal tour.
Are Indian Rupees Accepted in Nepal?
Post monetization's in India, Indian currency in the denomination of Rs. 100 OR lower are acceptable in Nepal. Please be careful from rumours like old Indian notes are acceptable, NO they are not at all acceptable & even new currency of denomination 500 & 2000 are also not acceptable.
Is Food Expensive In Nepal?
Compared to Indian tourist destinations food in Nepal is not expensive, but you may find it a little over price if you compare it to your native city. The average meal cost for an adult is around INR 300/person/meal which is quite good and acceptable as well.
Can I drive my Indian Car in Nepal?
You can travel to Nepal in your Indian car, provided all your relevant papers for vehicles in India are OK. Also, you must take the necessary permission & permit at Nepal Border before entering Nepal. If you fail to take permission at the border OR you enter Nepal without valid Indian RTO papers you will be penalised & vehicle may be impounded.


AHPL/NEPAL/001 
  04 Nights/05 Days
Pick :Gorakhpur   Drop : Gorakhpur   Cities to Visit: Gorakhnath, Lumbini, Pokhara, Manakamana & Kathmandu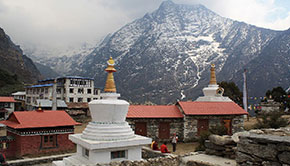 AHPL/NEPAL/002
05 Nights/06 Days
Pick :Gorakhpur   Drop : Gorakhpur Cities to Visit: Gorakhpur,  Pokhara, Manakamana & Kathmandu

AHPL/NEPAL/003
05 Nights/06 Days
Pick :Kathmandu  Drop : Kathmandu Cities to Visit: Pokhara, Manakamana & Kathmandu, Chitwan

AHPL/NEPAL/004
06 Nights/07 Days
Pick :Kathmandu  Drop : Kathmandu Cities to Visit: Pokhara, Manakamana & Kathmandu, Chitwan National Park & Janakpur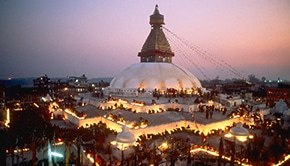 AHPL/NEPAL/005
06 Nights/07 Days
Pick :Kathmandu  Drop : Kathmandu Cities to Visit:  Janakpur, Pokhara, Manakamana & Kathmandu 

AHPL/NEPAL/006
07 Nights/08 Days
Pick :Gorakhpur  Drop : Gorakhpur Cities to Visit: Kathmandu, Pokhara, Chitwan, Manakamana, Janakpur, Muktinath, Nagarkote, Lumbini

AHPL/NEPAL/007
03 Night/04 Days
Pick :Kathmandu Drop : Kathmandu Cities to Visit: Kathmandu, Bhaktapur Durbar Square, Nagarkot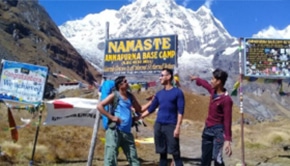 AHPL/NEPAL/008
04 Night/05 Days
Pick :Kathmandu Drop : Kathmandu Cities to Visit: Kathmandu, Manakamana & Pokhara

AHPL/NEPAL/009
05 Night/06 Days
Pick :Kathmandu  Drop : Kathmandu Cities to Visit: Nagarkot, Bhaktapur, Pokhara, Manakamana & Kathmandu 

AHPL/NEPAL/010
05 Night/06 Days
Pick :Kathmandu Drop : Kathmandu Cities to Visit: Chitwan National Park, Pokhara, Manakamana & Kathmandu

AHPL/NEPAL/011
06 Night/07 Days
Pick :Kathmandu  Drop : Kathmandu Cities to Visit: Nagarkot, Chitwan National Park, Pokhara, Manakamana & Kathmandu
Muktinath Tour Packages From 2023-2024